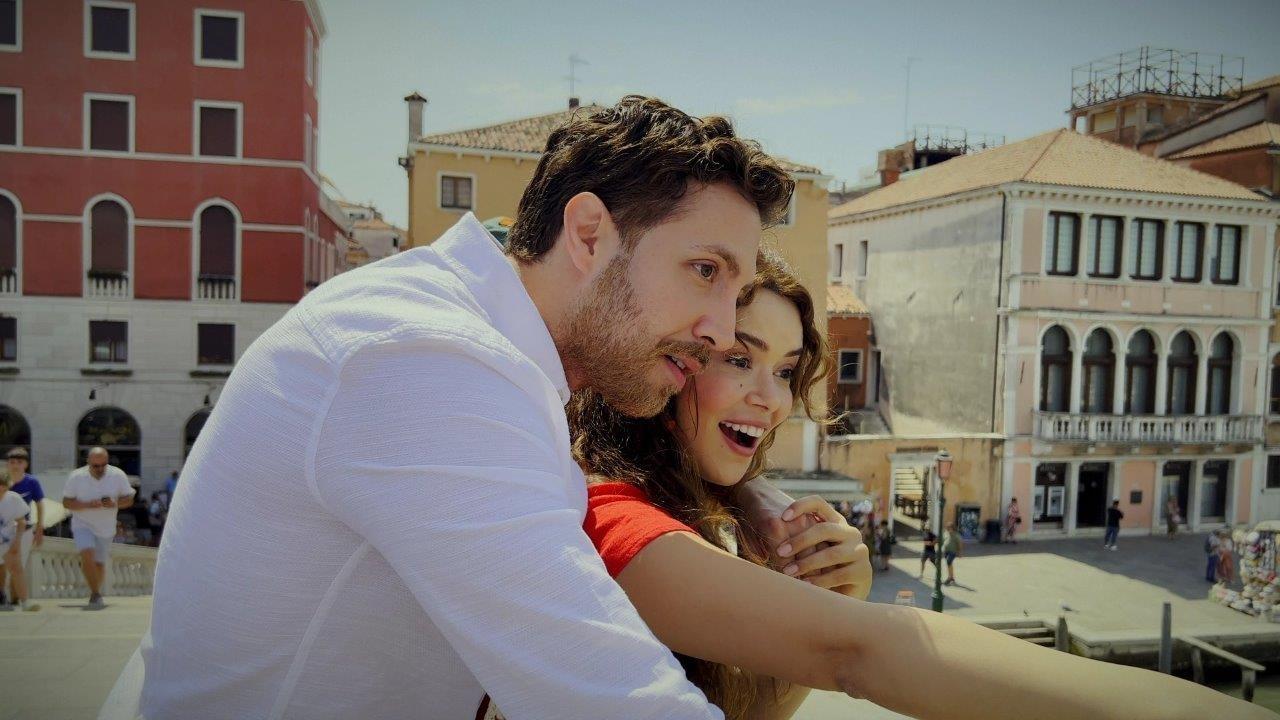 Quality : HD 1080p
Language : Turkish
Short link :
https://turkish123com.com/?p=6207
Bir Kucuk Gun Isigi Episode 24
English Subtitles
Episode summary
"He suffers the most, really can't you see that?" The custody decision that Elif is anxiously waiting for turns out to be in Dila's favour. Elif and Güneş have only the last few days to spend together.
Meanwhile, Feraye asks Ümran for her shares. Umran is in danger of going to jail, but she still doesn't tell Fırat anything. Güneş does not want to go to Dila. Elif is helpless.
Dila doesn't even send her to daycare so that she doesn't meet with Elif, not after she gets Güneş. Elif pushes all the limits to see the sun. In the end, he decides to complain about Dila and change his expression.
He will tell the truth that Dila tried to kill him on the cliff. While Ümran and Cemil vomit anger at Elif, Fırat stands behind her. Umran is unaware that Elif is the one who will untie this knot, while she is cornered by the pressure of Feraye on the one hand and Cemil on the other.
Summary of the previous Episode
Elif realizes that the flower she saw on Feraye's desk was not sent by Fırat. Feraye cannot trap Elif. While Fırat goes after the mole in the company, Elif goes after Feraye with Fulya. Elif soon learns why Feraye is so angry with the Ayaz Family.
The cause of all the pain that Feraye suffers is none other than Ümran. Umran, on the other hand, can no longer afford Cemil's threat to her. Umran finds a very special plant for him and starts to poison him day by day with the sap that comes out of its leaf.
Güneş' dance show becomes poison to Güneş with the intervention of Dila. While Ümran accuses Cemil of giving up on Dila, Cemil confesses that he knows that Dila cannot be a mother. Hearing this, Dila is destroyed. Now it's time for one last show.
---
Bir Kucuk Gun Isigi Episode 24 English Subtitles on turkish123com ;
Watch it also with Spanish  Subtitles on :
Watch it also with Arabic  Subtitles on :
Synopsis :
Another series comes from ATV, which has been bringing legendary TV series to screens for years with the slogan "The series is watched on ATV": "Bir Kucuk Gun Isigi"
Going with the motto "You don't know, maybe the greatest gift is the pain you think you can't bear…", "Bir Kucuk Gun Isigi" will be aired on ATV television with its moving story.
The story and screenplay of the series, produced by NGM and produced by Nazlı Heptürk, and directed by Emre Kabakuşak, belongs to Özgür Evren Heptürk.
How much can a woman love a man? For example, can she love him enough to be the mother of his child from another woman? Plus, when he finds out he's been living a lie for four years…
When he realizes that all those words spoken, every moment that makes him feel good and safe, is a lie? Or what do you do when you suddenly find out you have a baby girl? And this millennial question: is it the mother who gives birth to a child; The one who loves him and takes care of him, waits until the morning when he is sick and brings him up? So what does a man do!?… What if he falls in love with the wife of the man he killed?
After the success of Serai in her latest series "The Prisoner". And after her role ended with her death. Seray Kaya has entered a new role with a new series quickly. She signed with ngm yapım to star in the Bir Küçük Gün Işığı series for the next season.
He directs the upcoming Turkish series Bir Küçük Gün Işığı emre kabakuşak, who has directed important and popular series such as The Ambassador's Daughter and Explain, Black Sea.
It will be shown on the Ative channel. Filming will begin in mid-summer, to be shown next winter. The events of the Bir Küçük Gün Işığı series revolve around a dramatic framework that contains many puzzles, action and romance.
My Brothers NGM production company is preparing a new drama series entitled "Bir Küçük Gün Işığı". It will be shown next season on atv
And the series' slogan will be: "You never know, perhaps your greatest gift is the pain you think you can't bear."
The fact that many characters are people who hide their true identities is similar to the Maraşlı series. Surprising developments await the audience with the opening of some secrets after a death. The story of the series A Little Daylight hides secrets that will arouse the audience's curiosity.
Prepared by NGM Production for ATV screens, the series starts off with the slogan "You don't know, maybe the greatest gift is the pain you think you can't stand…". Emre Kabakuşak sits in the director's chair while Özgür Evren Heptürk writes the script of the series, which fits the beauties of both Italy and Istanbul into a single series.
Heroes of the series
The heroine of our series is actress Seray Kaya. To work that the artist was born the young and beautiful star Seray Kaya in Istanbul, Turkey on February 4, 1991 AD. She was born under the sign of Aquarius.
After that, she studied acting in my chest. Actress Seray Kaya was at the beginning of her career working as a beauty artist. Her dreams were to open a beauty salon and she continued that job for 7 years. Following this, she turned to art and acting, and her first start was in 2012.
Cast of  series
Seray Kaya as Elif
Berk Oktay as Fırat
Serif Sezer as Umran
Esra Dermancıoğlu,
Şeyma Korkmaz,
Beran Kotan,
Tuğçe Açıkgöz,
Yiğit Yapıcı,
Gizem Ünsal and
Azra Aksu
Seray Kaya
Seray Kaya was born on February 4, 1991 in Istanbul, Turkey.
She studied acting at Sadri Alisik Cultural Center and took acting lessons from Ismet Üstekin for two years. Seray Kaya worked as a make-up artist for 7 years, before becoming an actress and she wants to open a beauty salon.
She made her television debut in 2012 in the series Huzur Sokagi. In 2014 she played in the series Kocamin Ailesi. Then in 2015, she acted briefly in the series Evli ve Öfkeli. In 2016 she played in the romantic-comedy series Gülümse Yeter.
Seray is playing the role of Sirin Sarikadi in the series Kadin (2017). – IMDb Mini Biography By: ahmetkozan
Seray is a fan of Johnny Depp, Brad Pitt, Haluk Bilginer, Zerrin Tekindor, Çetin Tekindor, Vahide Gördüm. Seray is fluent English.
Her first on-screen appearance was as Miray in Kocamin Ailesi om 2014.
She loves animals very much and she has three dogs named Luna, Pablo and Pied.
Berk Oktay
Birthdate: October 28, 1982
Birthplace: Ankara, Turkey
Education: Ankara University Geology Engineering (Ankara Universitesi Jeoloji Muhendisligi)
Spouse: Merve Sarapcioglu (m. 2016)
Biography: Berk Oktay became Promising Model in 2001 Best Model competition and he became the Best Model in 2003 Best Model of Turkey competition. He worked as model during 2000- 2006. After 2004, he moved to Paris and worked for D&G, Ferre, Gucci and Prada in various cities such as Milano, Tokyo, Dubai, and Moskova. He made his debut on TV with his role as Levent in Sweet Curse Fadime (Tatli Bela Fadime).
Notable Works
2002 – He is a Soldier Now (O Simdi Asker) (Movie)
2007 – Sweet Curse Fadime (Tatli Bela Fadime) (as Levent)
2008 – Taxi Station (Akasya Duragi) (as Murat Aydin)
2009 – 2012 Back Streets (Arka Sokaklar) (as Sinan)
2010 – Passengers of Love (Umut Yolculari) (as Sinan)
2012 – In Flames (Alev Alev) (as Murat)
2013 – I Still Have a Hope (Benim Hala Umudum Var) (as Hakan Demirer)
2014 – Can't Run From Love (Asktan Kacilmaz) (as Berzan)
2015 – Relationship Status: It's Complicated (Iliski Durumu: Karisik) (as Can)
2016 – Relationship Status: Married (Iliski Durumu Evli) (as Can)
2017 – 2018 Warrior (Savasci) (as Kagan Bozok)
---
Bir kucuk gunisigi 

Episode 24
A Little Daylight Episode 24
Bir Kucuk Gun Isigi Episode 24, bir küçük gün işığı Episode 24 english subtitle, the promise Episode 24 english subtitles, bir küçük gün işığı Episode 24 eng sub, bir küçük gün işığı Episode 24 full Episode, bir küçük gün işığı Episode 24, turkish series english subtitles, turkish drama with english subtitles, turkish series with english subtitles, turkish series subtitled in english, Bir kucuk gunisigi Episode 24, Bir Kucuk Gun Isigi 1, Bir Kucuk Gun Isigi 24