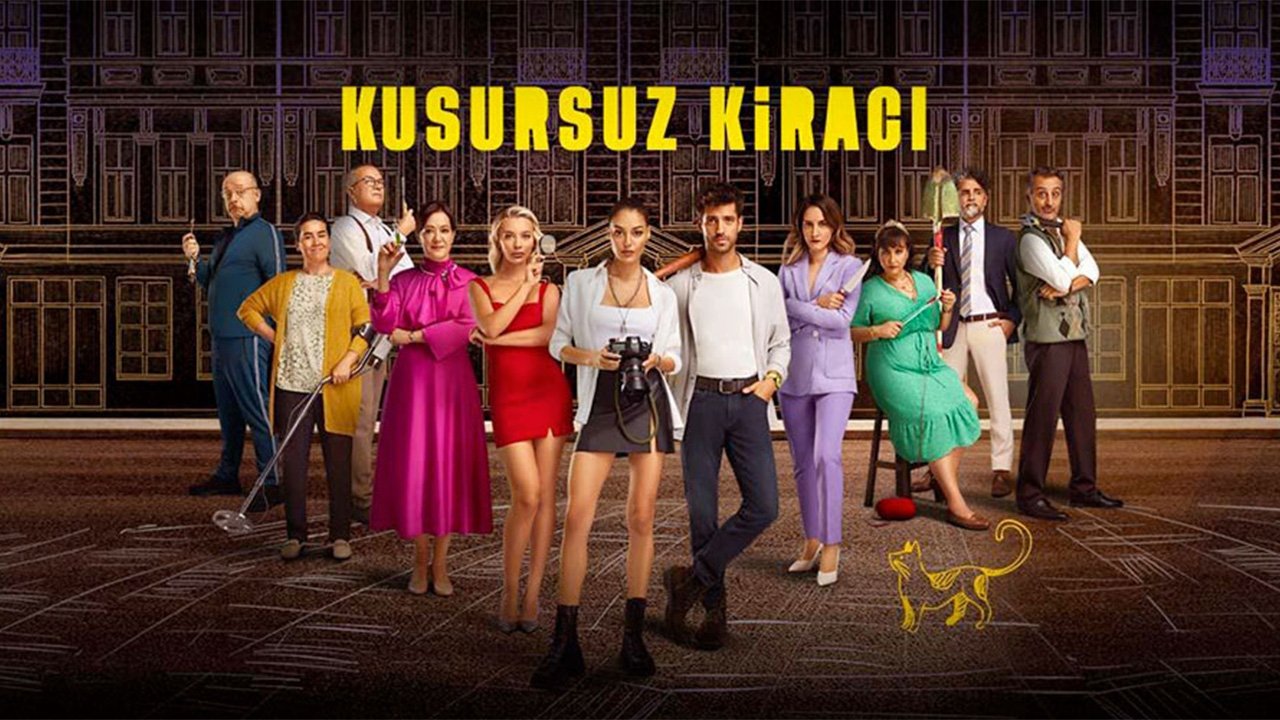 Quality : HD 1080p
Duration : 120 minutes
Language : Turkish
Short link :
https://turkish123com.com/?p=4823
Kusursuz Kiracı Episode 6
The Perfect Tenant Episode 6
Episode Summary
When Mona sees the discarded hair dye in Pelin's hand, along with the murder weapon she was after, all her suspicions are concentrated on Pelin. But it will soon turn out to be much more complicated than it seems. After Yakup's declaration of love, Necati no longer wants to see him with his daughter. However, important developments are taking place in the love of Yakup-Mona. Mona heals the wound inflicted by her father in her heart for the first time in years with Yakup.
On the other hand, while Mona and Leyla are trying to heal their wounds in the grip of past pain, their path ends up in the orphanage where they grew up for the first time in years. This emotional visit will affect both in different ways.
Previous Episode Summary
When Mona finally tells Jacob what happened, she receives an unexpected surprise that requires her to reevaluate everything she has ever known. As usual, Jacob managed to surprise her.
On the other hand, because of Yakup, a black cat comes between Mona and Leyla.
Mona, who now wholeheartedly believes that Şuayip was the victim of a murder, begins to investigate the murder with all her heart. His interrogations annoy Yakup as much as the people of the apartment. However, finding a very important piece of evidence, Mona follows the clues and makes sure that she has reached the murderer.
On the other hand, the love that sprouts between Jacob and Mona is getting stronger day by day. While Jacob is looking for ways to get closer to Mona, he takes her out for a romantic dinner one night. But events do not develop as expected.
---
Kusursuz Kiracı Episode 6 English Subtitles High Quality on turkish123com ;
Watch it also with Spanish  Subtitles on :
Watch it also with Arabic  Subtitles on :
Synopsis :
Famous names such as Dilan Çiçek Deniz, Serkay Tütüncü and Bennu Yıldırımlar are in the lead roles in the drama series Kusursuz Kiracı. We shared the first Episode viewing page of the series directed by Yusuf Pirhasan and written by Nermin Yıldırım. Here is the August 30 Kusursuz Kiracı monitoring screen…
The main character, Mona (Dilan Çiçek Deniz), is a young woman who grew up in an orphanage. She works for the internet newspaper and has been reporting on house arson cases in different parts of Istanbul recently. Again, one day when he goes to the news of the fire, they come across the photo reporter Yakup (Serkay Tütüncü), who came to do the same news. Although they secretly like each other, they bicker about because they have completely opposite characters.
Returning from the news, Mona sees that the owner of the house, with whom she is already in a fight, has put her belongings in front of the door and is now homeless. Since her friend from the orphanage and now a police officer, Leyla (Melisa Döngel), is on a secret mission, she has to accept the offer of her new acquaintance Yakup to become a tenant in her house, which was later divided into two by a strange architecture, as a temporary solution. However, on the first day that Mona moves into the apartment, she realizes that strange things are going on in the Yuva Apartment. The neighbors, who act mysteriously, do not seem happy at all that he has moved into the apartment. It's clear that something extraordinary is going on inside, but before Mona has time to understand what's going on, she runs into an unexpected, serious problem.
Cast of the series :
Dilan Çiçek Deniz – Mona Ünkap
Dilan Çiçek Deniz, who appeared in front of the audience in productions such as Tatlı Küçük Yalancılar, Bodrum Masalı, Çukur, Yarım Kalan Aşklar, Alev Alev and Gidenler, has been announced. Sea; He signed with MF Production, directed by Yusuf Pirhasan and written by Nermin Yıldırım, with the series "Tenant", which will tell the impressive stories of people living in an apartment.
Serkay Tütüncü – Yakup Ortaç
Serkay Tütüncü, who is included in the cast of the tenant series, was born in 1991 in Izmir. The actor studied at Ege University. He first started acting in 2018 by taking a role in the TV series called İnsanlık suçu. He became known for the Afilli love series broadcast on Kanal D. He took part in the TV series Survivor, Para bende, İnsanlık suçu, Afili Aşk, Bay Yanlış, and Hayaller ve Hayatlar. serkay tutcu tenant series
Melisa Döngel – Leyla
Melisa Döngel was born in 1999 in Istanbul. He studied acting at Osman Yağmurdereli Art Academy. In 2016, she took part in the TV series Hangimiz Sevmedik, Arka sokaklar, Elif, Bizim hikaye, Aşk ağlatır, Sen çal kapımı, Sadakatsiz, Aşk mantık intikam, Dünya ile Benim Aramda.
Özlem Tokaslan – Hamiyet
Özlem Tokaslan was born in Izmir in 1973. The successful actress, who graduated from Eskişehir Anadolu University Theater Department, started acting on the theater stages. She took part in the TV series Ömre bedel, Dila hanım, Güzel köylü, Dedemin fişi, and No 309
Ruhi̇ Sari – Sami
Ruhi Sarı was born in 1972 in Trabzon. Until this time, she took part in many TV series, movies and theater plays. She is a graduate of Selcuk University Theater Department. Some of the TV series he has acted in until then are as follows: Sümela'nın şifresi, Moskova'nın şifresi, Kardeş payı, Sen benimsin, Kırgın çiçekler, Söz, Ramo, Tutunamayanlar, Öğretmen, Kırmızı Oda, Gönül Dağı ve Akif.
Nilsu Yılmaz as Pelin Polat
Actress Nilsu Yılmaz was born in 2001 in Istanbul. She is a graduate of Mimar Sinan University, Faculty of Fine Arts. He took part in the TV series Davetsiz Misafir, 20 Dakika,Ufak Tefek Cinayetler, Payitaht, Kırmızı Oda and Kardeşlerim
Rüçhan Caliskur
Rüçhan Çalışkur graduated from Ankara University State Conservatory, the actor is also a voice actor. He took part in the TV series Acayip hikayeler, Benim için üzülme, Rüzgarlar, Yılanların öcü, Yeter, Avlu, Masumiyet
Incinur Dasdemir
İncinur Daşdemir was born in 1985 in Istanbul. After her first appearance in the movie Dabbe, she also appeared in the TV series Heavy Novel New World, Lost and Edho. tenant series incinur dasdemir
Umut Kurt – Nihat Dinç
After graduating from Umut Kurt Müjdat Gezen Art Center, who was born in Erzincan in 1981. He took part in the series: Beni böyle sev, Tatar Ramazan, Karakomik filmler, Şeref sözü, Fatma, Çıplak, Kuruluş Osman
Deniz Cengiz – Suzi
Deniz Cengiz, born in 1989, joined the cast of the TV series. Deniz Cengiz, who is an acting graduate of Istanbul Kultur University, attracted the attention of Gülse Birsel with the content she shared on social media and became known with the Jet Sosyete series. She also appeared in the TV series Görümce, Deliha 2, Jet sosyete, İçimizden biri
---
Kusursuz Kiracı Episode 6,The Perfect Tenant Episode 6,kusursuz kiracı 6,kusursuz kiraci Episode 6,kusursuz kiraci 6 english subtitles